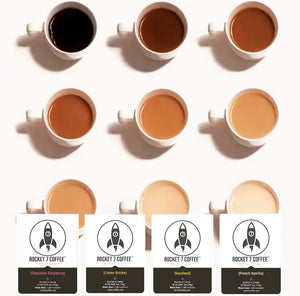 Flavour Set for Coffee Lovers
Sale price Price $20.00 Regular price
This sample set includes one 4oz (114g) of each of the Rocket 7 Original blends.
Each pack is enough for a 10 - 15 cup coffee maker.
Contents:
a mix of 4 of our flavours 
- Crème Brûlée
- Hazelnut
- French Vanilla
- Chocolate Butter Crunch
- Caramel
- Pumpkin Spice
Medium Roast

Flavoured using 100% High-Grown Arabica Coffee Beans
Taste Pre-Infused With Premium Flavouring
Dairy Free
ONLY $26!! ($32 value) 
*Product image for illustration purposes only. Actual product may vary.